Kerri Wilbur #TeamDaykin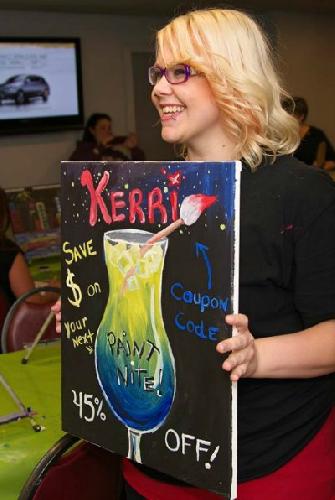 Kerri Wilbur #TeamDaykin
Events Held: 411
I've known art was my calling from a young age when I looked forward to nothing else but art class in grade school. Nothing makes me feel more true to myself. I know that art can bring joy and peace of mind so I want to inspire other people to create and explore!
Growing up I was obsessed with anime, cartoons, and comic books. I was constantly drawing characters and comics of my own. This lead me to a Bachelor's Degree in Illustration from UMASS Dartmouth. My other creative interests include sewing, jewelry making and some small sculptures. Someday I hope to publish my own graphic novel or create a children's cartoon.
Aside from my passion for art, I love having fun! If there is karaoke happening you will find me there, singing my heart out. I'm secretly a rock star. A class with me will be filled with singing, laughter and fabulous paintings!
Some Customer reveiws of this artist:
[Margaritas (Salem, NH)]: Painting with Kerri. She is so awesome and always makes sure to demonstrate how to do things. One large group there was very loud and kept talking over her. I thought she handled that very well.
[Kyoto (Tewksbury)]: Kerri is great. She is very engaging, funny and keeps everything moving!