Kim Overholt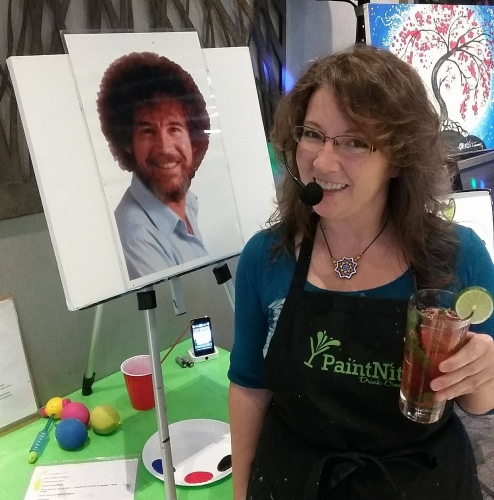 Are you looking for some fun? Well, you just found some! Kim has been an active artist in the Niagara Area for over two decades, attracting a wide range of clients who share the same passion for enjoying art.
Kim is a Paint Nite Party Artist with a knack for making painting with acrylics way more fun and exciting. Get ready for a rewarding experience! When Kim hosts a Paint Nite Niagara Event, you can expect some juggling, ukelele playing, balancing on furniture to get the right camera shot and blowing bubbles just to keep it lively. Kim is not only a performing artist but a portrait artist, illustrator, cartoonist and art instructor. Kim possesses a unique ability to channel the spirit of "Bob Ross" onto the canvas and has developed a signature look to her many painting styles.
Kim continues to exhibit her art throughout the Niagara Region and to the world via her website at www.kimoverholt.com.
Kim is super excited to be a part of Paint Nite Niagara and looks forward to sharing and enjoying art in this wonderful setting with you!