19 ways to give back this holiday season
It's officially the holiday season! There is a chill in the air, a warmth in everyone's heart, a void in your bank account, and the pressure to give a little something to those in need.
So, how can you lend a helping hand this holiday? Whether you want to fund-raise for a cause close to your heart, donate goods, or volunteer your time, we've got the answers to your holiday giving questions. 19 answers to be exact!
#19 Share your knowledge with a friend
Are you really good at something? Could your skill potentially better a friend or stranger's life? Share it with them!
Maybe you are great at making homemade bread. Perhaps you rock at organizing. Or maybe you are a super star when it comes to home renovations. No matter how big or small your skill is, it is important.
While you can share your time to bake, organize, paint, or build something for your friends and others, try giving back by teaching them ways to do it themselves. It's like giving back two-fold. If you go over to your best friend's house to help them switch out the dining room chandelier before they host for the holidays, don't just do it for them – do it together! That way, when they decide to update the ceiling fan on the back porch come Spring, they feel empowered to tackle it themselves.
It's the gift that keeps on giving. And who knows? Maybe they have some bit of knowledge to share with you!
#18 Cards for a cause
If you haven't sent out your holiday cards yet, rethink where you buy them. Instead of purchasing from online retail giants or superstores, choose to shop from organizations like UNICEF, Greet for Good, and Cards for Causes. Each of these organizations let you purchase holiday cards that give back a large portion of your purchase to a specific charity, or cause of your choice.
#17 Shop local
We just had Small Business Saturday, but don't let your local shopping stop there! While online and large retail shopping may be convenient, it is so important to support your local economy.
When is the last time your strolled around downtown? Take a look around your community and shop small – you might be surprised at what you find. Plus, what is better than supporting the people of your community in their business endeavors?
#16 Get a real tree!
We couldn't have put it better, so we will let NASA do the talking:
Get a real tree this holiday season. Buy it or cut it yourself at a tree farm. Either way, you will be helping the environment. Surprised? Most people think it's bad to cut a live holiday tree. Instead, they buy an artificial tree made of plastic or other synthetic material. Because they reuse this artificial tree year after year, they think they are saving real trees. But not so. Farmers grow trees especially for the holidays. They plant huge tracts of land in beautiful noble pines, Douglas firs, blue spruce, and other favorites. It may take 8 to 12 years to grow a good sized tree. But during that time, the tree is taking in carbon dioxide and releasing oxygen. It is cleaning the air and helping slow climate change.

When you are done with your holiday tree, you can recycle it. Most cities have programs to pick up your holiday tree and grind it up into mulch. Then it is spread back onto the land to help grow something else—or more trees. No matter how many years you reuse an artificial tree, someday it will get thrown away and end up in a landfill for the next 1000 years!

So this year, get a real Christmas tree. You can even get a living Christmas tree with its roots still intact. After the holiday festivities are over, you can plant it outside and help our environment. It's better for us and the tree!
#15 Give an unexpected generous tip to make someone's day
Did you have an amazing experience while you were out? Make sure you thank your server with a generous tip.
While it may just seem like a few dollars difference, adding on those extra percentage points to gratuity can really make all the difference to someone else. Don't forget that your waiter, hair dresser, nail technician, Paint Nite artist, etc. created an experience for you that added greatly to your holiday season – so add to theirs in return!
#14 Give thanks
We use this expression so much during the holiday season, but do we always live by it? Make sure you truly give thanks by expressing appreciation and gratitude with a "thank you"!
Someone held the door for you? Say thanks! Waiter refilled your water a fifth time? Say thank you! Your Aunt Lorraine gave you a sweater that wasn't necessarily your style, but she was swooning over and spent time to especially pick out for you? Say thank you and wear it, gosh darn'it.
There is no time limit on thanking either! Did you forget to properly thank someone this year? Send a note. Make a phone call. Pay a visit, and give your thanks. Sharing your gratitude with others helps them to know how appreciated they are and that their hard work and effort was worth the while. Plus, it feels pretty good!
#13 Do something sweet for the constants in your life
Your mailman, UPS driver, garbage truck guy, and recycling operators – they are the people who keep your world running. Plus, they are out there in the rain, sleet, and snow at all hours to make your holiday festivities possible! Leave them a treat.
Maybe a small gift card for some coffee, new gloves, or a box of cookies? Make sure you also include a note saying thanks. It goes a long way.
#12 Don't forget those at home, in hospice, or in hospital
Unfortunately, not everyone has someone to share the holidays with them. Put together a meal or gift and bring it to someone who is alone at home, in hospice, or in hospital. This act of care will mean the world to someone who usually has to travel such a joyous season alone or in pain.
#11 Keep cash in your pocket
Outside of every grocery store we can find folks collecting for those in need. In a time where we all rely so heavily on credit cards, make sure you keep a little cash in your wallet. That way you'll have a little something to give next time your run into someone collecting!
#10 Purchase thoughtfully
We buy a lot of gifts this time of year, so why not purchase ones that also give back! The following companies will make a donation, or send an item to someone in need with each purchase you make.
#9 Fund raise
There are so many ways to raise money around the holidays, but we are partial to doing so creatively! You can sell art, host a fashion show, run a cooking challenge, or get your loved ones together for a Paint Nite or Plant Nite fundraiser. So, get out there and do something creative, while also raising money for a cause dear to your heart.
#8 Cook a meal for someone who raised you
Whether it was a parent, grandparent, foster home, aunt, uncle, etc., there is probably someone in your life who raised you.
This person loved and cared for you and sacrificed so much to mold you into the awesome person that you are today. After years of cooking meals for you, providing a warm and loving home, and doing the dishes, wouldn't it be nice to return the favor?
Cook a meal for your person and share it with them. It will mean the world that you took the time to be with them. Don't forget to do all the cleanup after the meal is done!
#7 Reconnect
Maybe you have an old friend, or a relative you grew away from? Give them a call and spend time catching up. Take them out to dinner and reconnect! It will feel great to be back together, and will make your holiday season feel truly merry and bright.
#6 Help the homeless
Do something kind for someone without a home. Put together a basket with non-perishable food, toiletries, hats, gloves, a blanket, a book, and a gift or two!
Bring it to the person you always see on your morning commute and brighten their day. If you would rather, you can always bring items to a local donation center and let them take care of the distribution.
#5 Wrapped in kindness
Visit a local senior center and help residents by offering to do their shopping, or by wrapping their presents. What may seem like a simple, everyday task, can be quite difficult to manage without a vehicle and can really mean a lot.
#4 Mr. Roger's approved
Be a good neighbor this holiday and keep an eye out for ways you can lend a hand. If you neighbor gets home late, spread some ice melt on their walkway for them. Maybe you see them struggling with packages? Lend a hand and help them carry them inside. Do you all live in an apartment building? Organize a holiday feast and Yankee swap! This way you can come together, celebrate, and get to know one another better. You could also check with your landlord, and see if you could put up some decorations to really get things feeling festive.
Don't forget to leave them a little holiday treat as well! May we suggest some of your famous chocolate chip cookies?
#3 Share a new world
Books open doors to new worlds. Give your community the gift of a new story by starting a little free library in your front yard. Find out more by clicking here.
#2 Give of yourself, literally
Donate blood or plasma this season – find a location near you with the Red Cross. It is also easy to become an organ donor – you might just save a life some day! You can learn more and sign up on the Donate Life website.
#1 Be there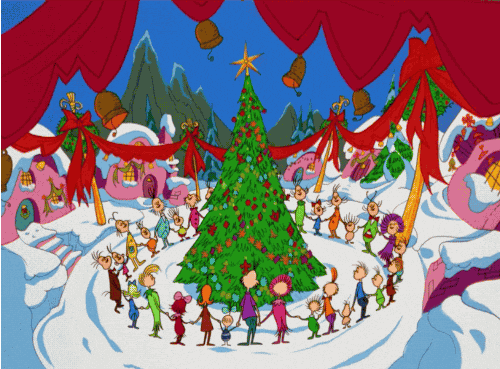 Put away your phone, close your computer, and be there for your loved ones. It is so hard, but it is important to be present during the holidays. In a season filled with joy, laughter, celebration, and memories, your attention to friends and family will enrich your life, and theirs, for the years to come.
No matter how much you give, how big or how small your donation, or how long or short the time you have, we hope you find at least one way you can spread a little joy this holiday season!
Cheers – happy holidays!