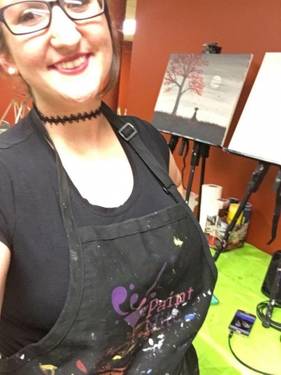 Brooke McClaskey
---
Hosting since December 2017
383 events hosted
---
Hey, folks! My name is Brooke McClaskey. I grew up in Brimfield, IL and have always taken interest in painting and all things art. My bedroom is my sanctuary. My desk is piled high with my easel, all types of paint, brushes, canvases, oodles of projects in the making, and other fun things that hold potential. My other passion is raising our three sons with my husband, Chris. I live every day my life with an attitude of optimism & positivity. I am silly, quirky, bubbly, & some tell me I'm a little loud. Paint Nite is my outlet to be fun and creative and I hope that you find it's yours, too!
Have a question about supplies? Here's what I use:
Brushes (I use Papa- 1 in square brush, Mama 1/2 in square brush, & Baby - detail sized brush), acrylic paint, and canvas (I use 16x20) or whatever you'd like to paint on! A cup of water to keep your brushes wet and some paper towels for wiping off your brushes and potential spills! I will be using: WHITE, BLACK, RED, YELLOW, BROWN & BLUE ACRYLIC PAINTS, I also recommend bringing along any neon colors (as they can't be mixed using normal tones) & glitter if you're into that sort of thing. Don't forget your Bob Ross Attitude! :)
Have a great time with me at an event? Click Here to Drop Some Extra Love Into Brooke's Digital Tip Jar! THANK YOU, FRIENDS!