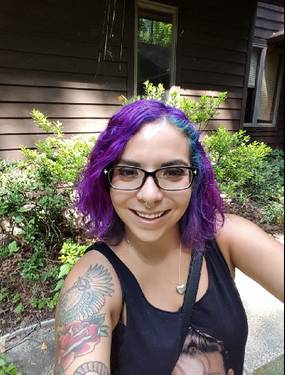 Eden Sierra #Teamsmall
---
Hosting since May 2015
968 events hosted
---
Hey! I'm Eden! I like to consider myself a Paint Nite artist extraordinaire. I hail from the Baltimore area where I graduated from Maryland Institute College of Art with a BFA in Ceramics. When I'm not being a busy bee, I'm usually in my studio working on my own art, playing with my puppy (she's not a puppy anymore), or out in nature hiking. I'm a bit of a weirdo, but that's just how it goes. I love good jokes, good drinks, and good company, and I like to think I'm good at providing two out of the three. I strongly encourage singing at my events, because otherwise I'll be the only one jamming out to the music, and let's be honest - I am not the best singer. I also love when people get creative with our paintings - if you want to change the colors, or put a dick in it, or paint a different painting then I AM YOUR GIRL. Let me know, and I will help make your wildest Paint Nite dreams come true!
You can find my personal work at www.edensierra.com and you can find me at your local Paint Nite events!
IF YOU HAVE QUESTIONS REGARDING AN EVENT: Email my boss, Elyse, at elyse.small@localyaymaker.com - any emails that make their way to me will just get forwarded to her anyway!