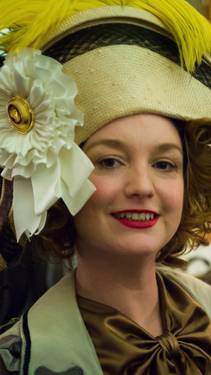 Erin Mahoney
---
Hosting since May 2020
36 events hosted
---
Creative projects give me a lot of joy. Time seems to stand still while I'm immersed in the flow of making things.
I am an art teacher, for miniatures, and flower making at:
https://www.castleintheair.biz
I also have too much fun decorating my little BnB called Peacock room , Jungle lounge:
https://abnb.me/nE1coRv1H6
please tell your friends about it!!
Some of the other jobs I do:
tour guide, and game show host for classic movie night at the glorious, historic, Paramount Theatre, in Oakland.
https://www.ladyevesreellife.com/2018/08/roll-up-for-mystery-tour-visit-to.html?m=1
Some of my other creative projects include making costumes, flowers and hats, dance performance, and expressive interiors (see peacock room!).
You can see some of the wacky costumes I make at:
https://www.facebook.com/mycrazycousin/
As a California native, I grew up in Silicon Valley when it was all orchards. I've studied art, design, fashion, and dance.
I live with my partner and 2 cats in Berkeley California.
Here is a clip of my public speaking debut at the Paramount, filling in for my co-host- normally I spin the wheel:
https://youtu.be/wRz-pCqgRnU
If you need to contact me, my email is figleaf5@aol.com