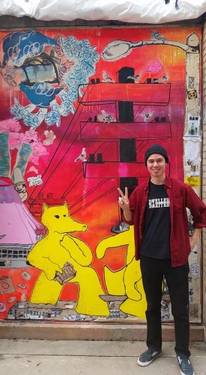 Ray Vidal
---
Hosting since November 2019

8 events hosted
---
Hello my name is Ray,
I love the arts in every shape and form. I studied at the Ontario College of Arts and Design University in Toronto and graduated in Sculpture and Installation with a BFA. I teach in various community arts programs in the gta as an art instructor and curator.
I have the same passion in art as much as I do music. I try to keep my classes upbeat, fun and spontaneous as my music. I create an environment that is free flowing, allowing people in attendance to let loose.
I am a musician in a band called the Five and Tens. We play all over the gta. Come to a gig. https://www.instagram.com/fiveandtens/
My goal is to spread happiness, joy, laughter and positivity within the arts. It is important that I inspire, create and transform the ordinary.
So put on your dancing shoes and come out and paint with me.
Look forward to seeing you at my events
Cheers
https://www.instagram.com/rayvidalart/