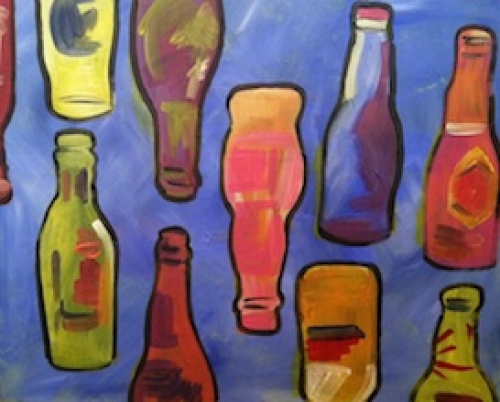 Beer Bottles
You'll be painting this!
Philadelphia Wings March 22 Cancelled
Please go to our Event Calendar for more events
Calendar
SPECIAL EVENT!
EVENT DETAILS
Paint Nite has Teamed up with the Philadelphia Wings! This is a Special Event! A game ticket is included to for the Wings game that follows! (Game time is 7:30)
LOCATION DETAILS
Paint Nite has teamed up with the Wells Fargo Center and the Philadelphia Wings!

It's The Wells Fargo Center!

It's Home to the Philadelphia Flyers, 76ers, and Wings!

It's at the AT&T Broad Street Stop!

You know, THAT place :-)

Paint Nite Events will be held Pregame in either the Press Room (downstairs) or in P.J. Whelihan's (on the main concourse).

As with all Paint Nite events, unless otherwise noted, please remember that this event is intended for those 21 and over and that food and drink is not included with the Paint Nite ticket and can be purchased directly from the venue.
To provide you the best experience, we recommend upgrading your web browser with Google Chrome or the latest version of Internet Explorer