Bout Time Pub & Grub - Ogden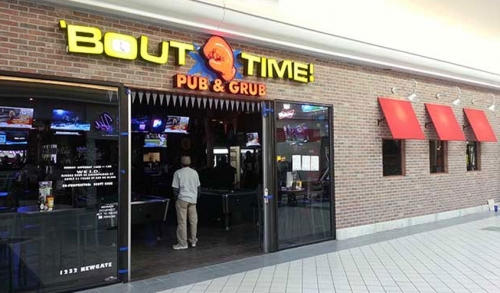 @Bout Time Pub & Grub - Ogden
3651 Wall Ave #1232 Ogden, UT
Welcome to Bout Time Pub & Grub Ogden located in side the Newgate Mall in Og
+ More
Welcome to Bout Time Pub & Grub Ogden located in side the Newgate Mall in Ogden, Utah. Our pub is the perfect stop before or after a long day of shopping or before and after seen a movie at the Newgate Mall. Our team is ready to quench your thirst & keep you accompanied with great energetic personalities.
We have a great menu, beer & liquor selection. We have signature items such as the Monte Cristo, Chubby Melt and some of the best pizzas anywhere. Sunday afternoons we host a poker tournament followed by stand-up comedy while you enjoy one of our 20 plus beers on tap.
We have daily food specials, so check us daily via our Facebook page, starting with the amazing deal of our $5.00 Burger & Fries…. Yeah, just 5 bucks on Mondays!
Please note: Paint Nite is only for adults age 21 and older. Adult language and content may be used. This is NOT a BYOB event. Drinks, food and gratuity are NOT included in the ticket price. Your preferred drinks and/or food are purchased directly from the venue on the night of the event. Thank you.