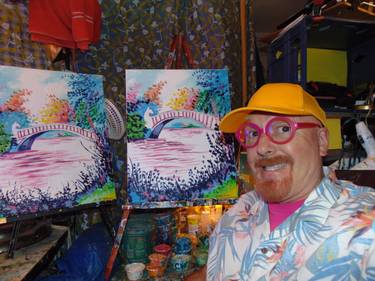 Brian Mark Hahn
---
Hosting since January 2017
448 events hosted
---
Brian Mark Hahn is a Eugene native who graduated from the U. of O. with a B.S. in Visual Design, and proceeded to work at various studios in the Southern California area on award winning special effects commercials and feature films.
He eventually found himself back in Eugene & spent many years as an art director, designing computer games for Vivendi-Universal, GarageGames and Disney Interactive.
He's found his calling at PaintNite where he can combine his three loves of painting, teaching and entertaining. He also teaches art to kids in a popular afterschool program and teaches painting at a large arts & crafts store.
In addition, he runs Iconographic Design, a small design firm he shares with his son, helping promote small businesses. He's an accomplished caricaturist & cartoonist, and spends his leisure time biking, swimming, jogging, doing ecstatic dance, stand-up comedy and karaoke.
https://www.facebook.com/brian.mark.hahn