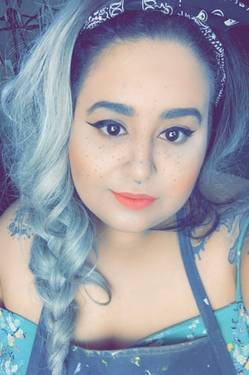 Melissa Borges
---
Hosting since May 0202
437 events hosted
---
Melissa Borges is a gal from the Bronx who's been an artist all her life. She graduated with a B.A in illustration from Lehman college with abilities in painting, photography and ceramics. Melissa is also passionate about art, music & movies/theater, as it plays a fundamental role in her artwork. In her art, she enjoys incorporating emotion with dramatic textures and color. She is greatly influenced by impressionistic painters for their use of expression as well as modern painters that bring new ideas to the world of art. Melissa believes art is everywhere and enjoys discovering new ways of getting creative. She hopes to bring fun, laughter and her own innovative style to Paintnite!
Follow her on social media!!
Instagram: @melissaborgesyaymaker
Facebook: Melissas World
Tik Tok: @melissasworldyoutube
Watch her Artist YouTube channel!!